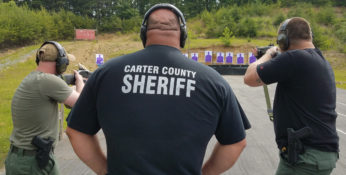 At the Carter County Sheriff's Office, we strive to be prepared for any situation that we may face, great or small. Continual training is an essential tool to ensure our deputies are ready for the challenges they encounter.
Per P.O.S.T. requirements, our deputies receive a 40 hour in-service training course every year. Each year, our training staff work to include new material, exercises, and evaluations to better educate and prepare our deputies. These include education on Tennessee law, practical tips for investigations, and tactical training for high-risk situations.
In addition to annual training, the department also hosts weekly training sessions to provide continual education during the whole year. These trainings are less intensive, but help to address any immediate needs of the department. Our training staff also use these weekly trainings as opportunities to bring the department up to date on state and federal policies and practices.
The CCSO training staff works to make sure all officers receive practical, up-to-date training. They are experienced deputies who strive to pass on everything they have learned in their careers, as well as continually educating themselves on new tactics, laws, and issues our men and women face.