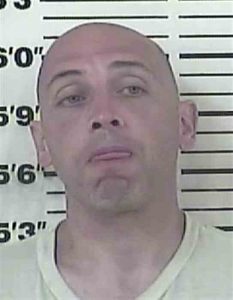 Chad Benfield – Charged with Felony Murder and Especially Aggravated Burglary
Victim – Mary Nolen (89 years old) 128 Dan Bowers Road Elizabethton, Tennessee
August 11th, 2017
On Friday morning, July 14, 2017, Mary Nolen, an 89 year old female, was discovered injured inside her residence at 128 Dan Bowers Road in Carter County, Tennessee by her daughter and granddaughter. Significant bruising was present on Mrs. Nolen's chin and neck area, which seemed indicative to the family that Mrs. Nolen had been assaulted. While being transported to the Johnson City Medical Center, members of the Carter County Rescue Squad asked Mrs. Nolen if she had been assaulted, to which she confirmed that she had by nodding her head.
After being transported to the Johnson City Medical Center, a Carter County Deputy responded and spoke with Mrs. Nolen. Although unable to speak, when asked by the Deputy if she had been assaulted, Mrs. Nolen nodded in an affirmative manner that she had been. Subsequently, an investigation into the incident was initiated by Carter County Investigators.
While hospitalized at the Johnson City Medical Center, evidence was collected from Ms. Nolen's person in an attempt to identify her assailant. This included fingernail clippings from her hands which were sent to the Tennessee Bureau of Investigations Crime Laboratory in Knoxville, Tennessee.
Investigators with the Carter County Sheriff's Department met with family members at Mrs. Nolen's residence to do a walk through in order to determine if any items were missing from the residence. During the walk through, a family member noted that a bottle of Tramadol, a green lock box, and sheets from Mrs. Nolen's bed were missing from inside of the residence. Additionally, the daughter stated that at the time of Mrs. Nolen's discovery on July 14th, her pocketbook was missing from its usual location which family members stated was extremely abnormal. The purse was found in another area of the home where it was never noted to be previously.
On July 26, 2017, Mary Nolen died at the Johnson City Medical Center Hospital, having never fully regained consciousness and being in a state of progressively deteriorating health since being discovered injured on July 14th. Pursuant to her death, an autopsy was conducted at the William H. Jenkins Forensics Center in Johnson City. During the autopsy, which was performed on July 27th, 2017, subdural hematomas of the skull and brain were discovered, which indicated blunt force trauma, and are consistent with injuries sustained during a physical assault. Additionally, bruising was still evident and present on the tops of both of Mrs. Nolen's forearms along with contusions on the face, scalp, chin, and neck area.
On August 8, 2017, the Tennessee Bureau of Investigations Crime Laboratory issued a report which stated that a DNA profile of an unknown male subject had been discovered to be present on both the left and right hand fingernail clippings of Mary Nolen. Based upon the discovery of this DNA profile, a search was conducted through the Combined DNA Index System (CODIS) and an association was made. This association identified Chad Anthony Benfield as being the contributor of the DNA profile discovered under the fingernails on both the left and right hand fingernail clippings of Mary Nolen.
A search for the identified subject, Chad Anthony Benfield, revealed that this individual resided at 672 Highway 91, which is directly behind Mary Nolen's home at 128 Dan Bowers Road. Benfield was recently released from a South Carolina Prison in December of 2016 after serving an approximate sixteen year prison sentence for four counts of Residential Burglary. Upon his release, Benfield remained on probation out of South Carolina with supervision status in Tennessee until his arrest earlier this week on a Violation of Probation warrant.
On August 10th, 2017, Carter County Investigators traveled to Gaffney, South Carolina where they interviewed the former girlfriend/fiancé of Chad Benfield. In speaking with her, she advised that she and Benfield lived together at the residence at 672 Highway 91 from the time of Benfield's release from prison until Friday July 14th, 2017. She further stated that late Thursday night, July 13th, she and Benfield argued up until the time that she went to bed at approximately 1:00 A.M. She said she was unaware of Benfield's whereabouts until approximately 8:00 A.M. the next morning, Friday, July 14th. Later that day, she made the decision to terminate her relationship with Benfield. While packing up to leave the residence she discovered a set of sheets which were wadded up beneath a pile of laundry that was on a futon in the basement of the residence at 672 Highway 91. She stated to investigators that she did not recognize the sheets and advised that all of the beds in her residence were either King or Queen sized, and that these sheets were smaller. It is noted that Mary Nolen's bed from which the bedsheets were missing was a full size. Upon picking up the sheets, she stated that a night gown and bath robe were present as well.
Investigators interviewed Mr. Benfield on Friday August 11th, at which time he denied ever having contact with Mrs. Nolen or being in Mrs. Nolen's residence.
Based upon the forensic evidence and collective investigative efforts, Chad Benfield was charged with Felony Murder and Especially Aggravated Burglary – bond was set at $500,000. The previous bond on the Fugitive from Justice Warrant for the Violation of Probation out of South Carolina was set at $25,000.
A press conference will be set for Monday.
Dexter Lunceford
Carter County Sheriff