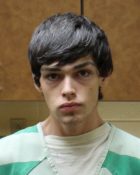 Carter County Sheriff's deputies arrested one man Wednesday after a vehicle pursuit on Highway 400.
Around 8:15 a.m., a deputy spotted a vehicle believed to be stolen on Smalling Road. He pursued the vehicle down Highway 400 before the vehicle crashed and the driver was arrested. Deputies searched the vehicle and found what they believe to be Suboxone and methamphetamine. They also found a scale inside the vehicle.
22-year-old Nathanial Mack Fields is charged with felony evading arrest in a motor vehicle, possession of a Schedule III substance, and manufacture, delivery, sale or possession of methamphetamine. He is being held in the Carter County Detention Center.