The Carter County Sheriff's Office currently has two K-9's. These highly trained dogs assist with many tasks, from searching vehicles to apprehending suspects. Both dogs are "Passive Alert" trained, which means they sit when they detect a smell, rather than barking and scratching. This allows us to use them in more public forums, such as county schools.
Our dogs are generally friendly, but you should never try to pet a K-9 without first asking permission from their handler. Ask the deputy in charge first and follow their instructions. Even though they work in law enforcement, our K-9's still love to be petted!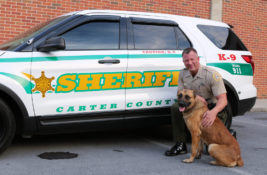 K9 Hugo & Deputy Broadway
K9 Hugo specializes in sniffing and searching vehicles and apprehending fleeing suspects. Hugo began working at the Sheriff's Office in July 2017, and is one of the best dogs the department has ever had.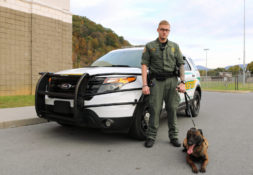 K9 Spike & Deputy James
K9 Spike specializes in sniffing and searching for contraband in the county jail and tracking missing persons or fugitives. He has worked for the Sheriff's Office since December 2016, and he is very friendly. He may try to lick you if he gets the chance!